2022 was definitely an upgrade from the previous year – well, for some of us.
Borders across the globe finally opened up, allowing people to finally scratch their travel itch. People went all-in on traveling, to the extent that the term "revenge travel" was coined to describe their unstoppable urge to explore after being stuck indoors for so long.
However, 2022 had its fair share of disasters. Russia kicked things off by making an appalling decision to invade Ukraine once again, while COVID-19 made an unwelcome comeback with the Omicron variant.
Amidst all the chaos, Kanye West seemed to be slowly losing his grip on reality, Elon Musk single-handedly ruined Twitter by buying it, the UK bid farewell to Queen Elizabeth II, and, to top it off, the cost of just about everything skyrocketed due to inflation.
And while Europe faced its worst drought in over 500 years, Pakistan was practically underwater for a good chunk of the year.
Finally, we couldn't possibly write about 2022 without mentioning Will Smith slapping Chris Rock so hard that the entire world heard it, keeping everyone talking for months!
Continue reading to delve into the events, news, music, quotes, and famous people's deaths that shaped the year 2022.
Events
Here you'll discover a collection of fascinating and unforgettable events that shaped the world in 2022.
A SpaceX Falcon 9 rocket ferried a US National Reconnaissance Office payload into orbit.
The mission, NROL-87, is unfortunately highly classified, but it's assumed that its payload was a spy satellite of some sort, given the NRO built it. This was the first time a Falcon 9 rocket was used for an NRO mission. Each NRO mission has its own custom-made patch, and NROL-87 was no different – this time, the patch featured a wild mountain goat on high alert atop the peak of a mountain.
Famous Deaths
Here's a glimpse at a few famous people who bid us farewell in 2022.
Quotes
Here's a roundup of the most memorable quotes people said in 2022.
2022 In Music
2022 was a musical whirlwind that had us grooving and singing along all year long!
From the infectious beats of "Titi Me Preguntó" by Bad Bunny to the mesmerizing melodies of "As It Was" by Harry Styles, these chart-toppers filled our hearts with joy and transported us to a world of pure musical bliss.
Discover the music highlights from 2022 that you need to know about.
Album of the Year
Jon Batiste's soulful and captivating album "We Are" took the music world by storm in 2022, earning him the Grammy Award for Album of the Year and showcasing his immense talent as an R&B/Soul artist.
Song of the Year
Silk Sonic, the dynamic duo formed by Bruno Mars and Anderson .Paak, won the Grammy Award for Song of the Year in 2022 with their soulful track "Leave the Door Open."
Best New Artist
Olivia Rodrigo's relatable lyrics and powerful vocals won her the Grammy Award for Best New Artist in 2022, capturing the hearts of listeners with her debut album.
2022 in Numbers
Let's look at some fun number facts! 2022 when written in Roman numerals is MMXXII, and when written in binary, it's 11111100110.
Harshad Number
2022 is a Harshad number, which is a number that can be evenly divided by the sum of its digits. It's like a special math rule for some numbers.
To explain in more detail, we add up the digits (2 + 0 + 2 + 2), which equals 6. And now we see if 2022 can be divided evenly by 6, which it can! 2022 ÷ 6 = 337. So this makes 2022 a Harshad number.
Abundant Number
Also, 2022 is known as an abundant number. An abundant number is a number where if you add up all the smaller numbers that can divide evenly into it, the total sum is greater than the number itself.
So, when you add up all the smaller numbers that can divide evenly into 2022 (1, 2, 3, 6, 337, 674, 1011), they add up to 2034, which is greater than 2022.
Chinese Zodiac 2022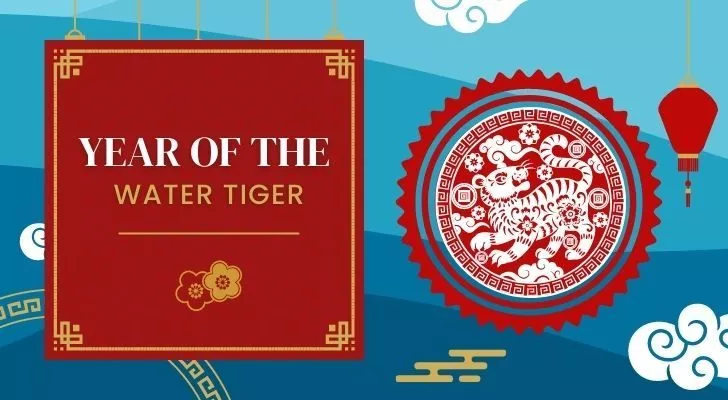 According to the Chinese zodiac cycle, 2022 was The Year of the Tiger, which occurs once every twelve years.
But did you know that the Chinese zodiac cycle also incorporates the five elements – Wood, Fire, Earth, Gold (Metal), and Water? This actually makes 2022 the Year of the Water Tiger, a cycle that repeats every sixty years.
Because the Chinese calendar works from the lunar cycle, in 2022 Chinese New Year actually began on February 1st.
The Tiger represents individuals who are brave, passionate, and fiercely independent. They exhibit a bold and adventurous nature, always seeking excitement and standing up for what they believe in.
Queen Elizabeth II, Lindsay Lohan and Leonardo DiCaprio are shining examples of the success and talent that can be found among those born in the Years of the Tiger!
2022 Trivia
Did you know that in 2022 the world's population reached 8 billion people for the first time?
The global population is growing exceptionally fast; it was 1 billion in 1803, 2 billion in 1927, 3 billion in 1960, 4 billion in 1974, and 5 billion in 1987.
It's been growing steadily by a billion around every 12 years ever since!