2020 will forever be known as the year of COVID-19. Lockdowns, masks, and social distancing became the new normal as the world grappled with the unprecedented challenges posed by the virus.
No matter where you were in the world this year, the news of the coronavirus almost seemed to spread faster than the virus itself!
Amidst the lockdowns, people found themselves in unique situations. From panic-buying toilet paper to becoming master bakers overnight, the year was filled with amusing stories of how individuals coped with the new reality.
With limited options for outdoor activities, people turned to binge-watching TV shows like "The Tiger King" on Netflix.
The world collectively indulged in newfound hobbies, like sharing talents on TikTok, bringing some joy during challenging times.
Continue reading to uncover the significant events, groundbreaking news, chart-topping music, thought-provoking quotes, and impactful deaths that made 2020 an unforgettable year.
Events
Explore the incredible moments that shaped 2020, a year filled with captivating events you won't want to miss!
Diego, a 100-year-old tortoise, was retired from a breeding program after fathering 800+ children.
Diego lived at the San Diego Zoo until 1977, when he was sent to the Galápagos to save his species from extinction. Over the following 43 years, Diego almost single-handedly returned the Galápagos giant turtle population to acceptable levels. Diego has since retired to the island of Española, where he was initially found.
Famous Deaths
Here's a glimpse at a few famous people who bid us farewell in 2020.
Quotes
Here's a roundup of the most memorable quotes people said in 2020.
2020 In Music
2020 was a year that delivered an array of incredible tunes that became instant classics!
From the addictive beats of "Don't Start Now" by Dua Lipa to the heart-wrenching lyrics of "Someone You Loved" by Lewis Capaldi, these songs struck a chord with our emotions and had us singing along with every word.
Familiarize yourself with the noteworthy music moments of 2020.
Album of the Year
Billie Eilish's hauntingly beautiful and alternative album "When We All Fall Asleep, Where Do We Go?" swept the Grammy Awards in 2020, mesmerizing audiences with her unique sound.
Song of the Year
Billie Eilish really rocked the music scene in 2020 and also took home the Grammy Award for Song of the Year with her chart-topping hit "Bad Guy."
Best New Artist
2020 was a good year for Billie Eilish! Her thought-provoking lyrics won her the Grammy Award for Best New Artist in 2020, solidifying her as a groundbreaking figure in pop music.
2020 in Numbers
In terms of numbers, 2020 was rather special, as the first two digits of the year match the second two. The next time this happens will be 2121. It was also the last year of the second decade of the 21st century.
If you've ever wondered how the year 2020 looks like in Roman numerals, it's written as MMXX. And if we represent 2020 in binary form, it becomes 11111100100.
Leap Year
The year 2020 was a leap year, featuring an additional day in February. This leap day compensates for the fact that a year is not exactly 365 days long, ensuring our calendars stay in sync with the Earth's orbit around the sun.
Harshad Number
2020 is a Harshad number, which is a number that can be evenly divided by the sum of its digits. It's like a special math rule for some numbers.
To explain in more detail, we add up the digits (2 + 0 + 2 + 0), which equals 4. And now we see if 2020 can be divided evenly by 4, which it can! 2020 ÷ 4 = 505. So this makes 2020 a Harshad number.
Abundant Number
Also, 2020 is known as an abundant number. An abundant number is a number where if you add up all the smaller numbers that can divide evenly into it, the total sum is greater than the number itself.
So, when you add up all the smaller numbers that can divide evenly into 2020 (1, 2, 4, 5, 10, 20, 101, 202, 404, 505, 1010), they add up to 2264, which is greater than 2020.
Chinese Zodiac 2020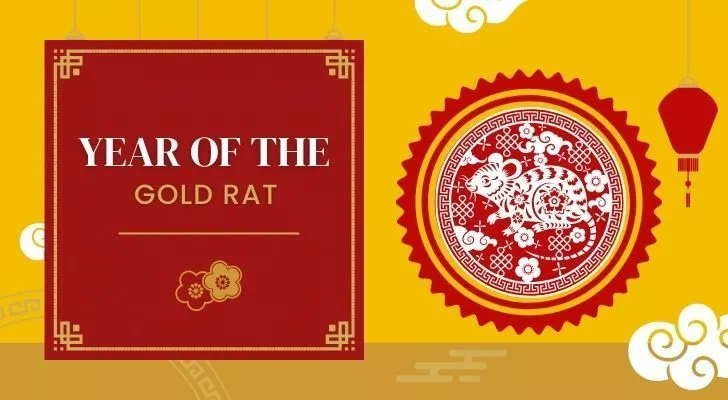 According to the Chinese calendar, 2020 was the Year of the Rat, which occurs every twelve years.
However, the Chinese zodiac also includes five elements, which are Wood, Fire, Earth, Gold (Metal), and Water. So this makes 2020 the Year of the Gold Rat, a cycle which happens once every sixty years.
The fascinating thing about the Chinese calendar is that it operates on a lunar cycle, which means that the Year of the Gold Rat officially kicked off on January 25th, and lasted until February 11, 2021.
People born in the Year of the Rat are resourceful, adaptable, and intelligent. They possess a sharp wit and are excellent problem solvers, making them natural leaders and quick thinkers.
The Years of the Rat have blessed us with influential figures such as Dwayne Johnson, Khloe Kardashian and Eminem.
2020 Trivia
Did you know that Zoom's stocks were one of the fastest-growing stocks in 2020?
Zoom Video Communications LLC's stock sold for $67 apiece at the beginning of 2020 and finished the year at $337, rising in value by more than 500 percent – much to Microsoft's envy!
Whether you love it or hate it, Zoom certainly made meetings much easier.