What a year 2010 was! It all started with Eyjafjallajökul, an Icelandic volcano with a tricky name, erupting and causing massive delays and cancellations to European flights.
Meanwhile, an oil spill in the Gulf of Mexico rapidly became the worst oil spill of all time. Haiti also suffered greatly from a devastating earthquake that left around 1 million people homeless.
However, 2010 also had some good things happen. An absolute miracle occurred in Chile, where 33 miners spent 69 days trapped in a mine shaft before being rescued.
2010 was also the year that Instagram was launched, the first iPad was released, the hit TV series Lost ended, and the first series of The Walking Dead began.
Oh, and Justin Bieber released his instant-hit "Baby," which people either loved or hated with a passion.
Continue reading to delve into the events, news, music, quotes, and famous people's deaths that shaped the year 2010.
Events
Here you can explore the incredible moments that shaped 2010, a year filled with unforgettable events!
All 33 miners trapped after a mining accident in Chile were rescued after being stuck underground for 69 days.
The accident happened on August 5, 2010, at the San José copper-gold mine in the Atacama Desert. The men were stuck 296.6 ft (700 m) under the surface, and it cost $20 million for the rescue mission.
Famous Deaths
Here's a glimpse at a few famous people who bid us farewell in 2010.
Quotes
Here's a roundup of the most memorable quotes people said in 2010.
2010 In Music
2010 gifted us with a musical extravaganza that had us dancing and singing at the top of our lungs!
From the infectious pop sound of "Just the Way You Are" by Bruno Mars to the soulful ballad "Forget You" by CeeLo Green, these songs captured our hearts and made 2010 a year to remember in the world of music.
These music highlights from 2010 are worth adding to your playlist.
Album of the Year
Taylor Swift's country-pop sensation "Fearless" stole hearts and the Grammy for Album of the Year in 2010, showcasing her undeniable talent and infectious charm.
Song of the Year
Beyoncé ruled the airwaves and dance floors in 2010 with her empowering anthem "Single Ladies (Put a Ring on It)," winning her the Grammy Award for Song of the Year.
Best New Artist
Zac Brown Band's heartfelt lyrics and captivating harmonies won them the Grammy Award for Best New Artist in 2010, solidifying their place in the world of country music.
Eurovision Song Contest Winner
The 55th Eurovision Song Contest unfolded in Oslo, Norway, in 2010, setting the stage for a mix of vibrant and diverse performances.
Lena, a young and vibrant singer from Germany, charmed viewers with her infectious song "Satellite," securing Germany's second win in Eurovision history.
2010 in Numbers
Are you ready for some fascinating number trivia? The Roman numeral form of 2010 is MMX, and in binary, it's 11111011010.
Harshad Number
2010 is a Harshad number, which is a number that can be evenly divided by the sum of its digits. It's like a special math rule for some numbers.
To explain in more detail, we add up the digits (2 + 0 + 1 + 0), which equals 3. And now we see if 2010 can be divided evenly by 3, which it can! 2010 ÷ 3 = 670. So this makes 2010 a Harshad number.
Abundant Number
Also, 2010 is known as an abundant number. An abundant number is a number where if you add up all the smaller numbers that can divide evenly into it, the total sum is greater than the number itself.
So, when you add up all the smaller numbers that can divide evenly into 2010 (1, 2, 3, 5, 6, 10, 15, 30, 67, 134, 201, 335, 402, 670, 1005), they add up to 2886, which is greater than 2010.
Oh, and here's one last fact for you! If you're curious to know how long it would take you to count to 2010, we've already done the math for you! It would take you roughly 33 minutes and 30 seconds!
Chinese Zodiac 2010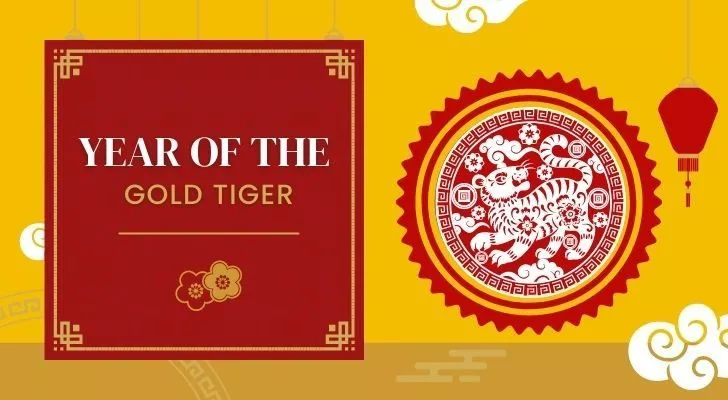 According to the Chinese zodiac calendar, 2010 was the Year of the Tiger, which occurs every twelve years.
However, it's fascinating to note that each zodiac animal is also connected to one of the five elements – Wood, Fire, Earth, Gold (Metal), and Water. So this makes 2010 the Year of the Gold Tiger, a cycle which happens once every sixty years.
Because the Chinese calendar works from the lunar cycle, in 2010 Chinese New Year actually began on February 14th.
People born in the Year of the Tiger are often courageous, confident, and independent. They possess a charismatic personality, are natural leaders, and are known for their adventurous spirit.
Famous people born in Years of the Tiger include Bradley Cooper, Lady Gaga and Josh Peck!
2010 Trivia
Did you know that the tallest building in the world, the Burj Khalifa in Dubai, was officially opened to the public in 2010?
It stands at an impressive height of 2,722 ft (830 meters), cost $1.5 billion, and took six years to build!