For anyone who contributes to YouTube, Casey Neistat is a legend.
Known for his creative vlogging style with stop animation, handmade graphics, and impressive DIY videos, he has built up a following in the millions.
He is notorious for taking his audience with him around the world through his camera on his sporadic travels, motivational speaking at events, venting about current issues, and occasionally back home to his wife and daughter.
Even before he started YouTube, he began making a name for himself with videos that have been featured on the news, as well as a short TV series that was purchased by HBO for 2 million dollars.
Starting from a lower middle class home and working his way up to New York City, he certainly has an impressive success story.
The following 23 facts are a must read for any Neistat fans!
Casey Neistat is 38 years old, he was born March 25, 1981 in Conneticut. He has 3 siblings, Dean, Jordan, and Van.
At age 15, Casey ran away from home after a fight with his mom. He stayed with friends before eventually moving in with two women, one of which he got pregnant shortly after meeting.
Neistat says he had difficulty with school and often got into trouble until he eventually dropped out at age 16.
He never attended a university or college.
His first job was a dishwasher in a seafood restaurant.
After visiting his brother in Brooklyn and borrowing his iMac to make and edit a video, he maxed out his only credit card to buy his own computer. This started his path into movie making in 2000.
In June 2001, his girlfriend dumped him so he moved to NYC in June 2001 at 20 years old where he found a job as a bike messenger.
Once he experienced working on 2 feature films, Casey decided he didn't want to do movies or TV, but instead opted for YouTube because it has a bigger audience.
In 2012, Nike asked Neistat to make a promo video for them. Instead, he took the budget and traveled around the world with a friend (Max Joseph from Catfish) until the money ran out, which only took 10 days.
Neistat uploaded his first ever YouTube video on February 17, 2010, but didn't make his first vlog until March 25, 2013.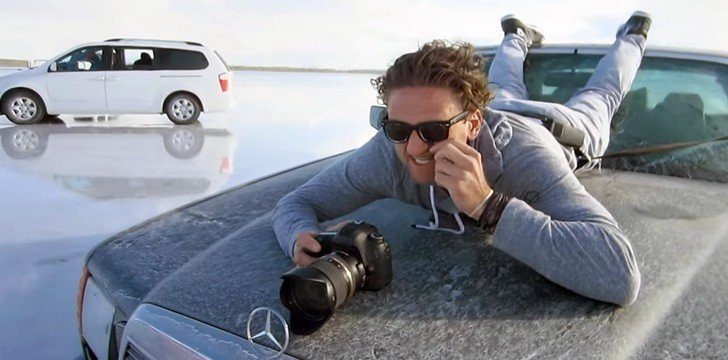 In 2013, Fox asked Neistat to make a promo video for The Secret Life of Walter Mitty. With a portion of their marketing budget ($25,000), he went to a village in the Philippines that was suffering from typhoon damage and organized 10,000 meals along with basic medicine.
His least favorite thing about living in NYC is the noise pollution.
Upon shooting a car commercial on the Salt flats in Utah, Casey liked how the salt looked stuck in the rim of his glasses. He decided to make a permanent version with spraypaint, which ended up becoming his signature look.
Casey proposed to his wife, Candice, in Amsterdam. They were married in South Africa, and went on their honeymoon in Southeast Asia.
In only 18 months, Neistat went from 500,000 subscribers to 4 million.
Post-production for his vlogs takes 2-7 hours on average.
When his pregnant wife's water broke, he was in San Francisco and she was in Houston. He booked the first flight and made it in time to see his daughter, Francine, born.
His favorite book is The Autobiography of Malcom X.
While shooting a commercial for Jack Spade, he and his brother filled up a tote bag with fireworks and lit it to show that the bag was durable which set the studio on fire.
Neistat has spoken at many colleges such as MIT, Yale, and Harvard.
Because Casey flies so much, he never pays for first class but instead upgrades by using points with American Airlines loyalty.
Nearly everything in his studio is designed and made custom by himself.
Casey's favorite restaurant is Scott's Lobster Dock in Conneticut.