Saint Lucia is an island located in the Caribbean Sea, and although thousands of people make it a destination for their vacations every year, the average person doesn't know a whole lot about this island.
Here are 30 facts to help you develop your geography and impress those around you.
Saint Lucia is just over 238 square miles – 27 miles long and 14 miles wide.
The capital city of Saint Lucia is Castries.
Around 100,000 people live around the coasts of Saint Lucia, while a further 60,000 live in Castries or further within the mainland.
Initially named the Island of the Iguanas by early Carib settlers, its name was only changed later on.
The French took over the island in 1660 after signing a treaty with the original Carib people, and it was first named Saint Lucy of Syracuse.
Around 85% of the Saint Lucian population are thought to be direct descendants of Africans, while the remaining 15% is made up mainly of English, French, mixed African and Indian.
Its name makes it the first country to be named after a woman.
Saint Lucia is the second largest island of the Windward Islands.
Between 1663 and 1667, England took control of Saint Lucia, sparking a long-term period of instability where the island changed hands a total of 14 times.
In 1814, England had full control over Saint Lucia. By this time, it was known also as "Helen of the West Indies" due to the number of times control had been passed over.
In 1979, Saint Lucia establish a sovereignty of its own, gaining independence from Britain.
"The Land, The People, The Light" became a motto after Saint Lucia became free from British rule.
The Saint Lucia Parrot, or Jacquot, cannot be found anywhere else in the world, and quite fittingly is the island's national bird.
Saint Lucia is a member state of the Commonwealth of Nations, but is a sovereignty on its own.
The currency is the East Caribbean dollar.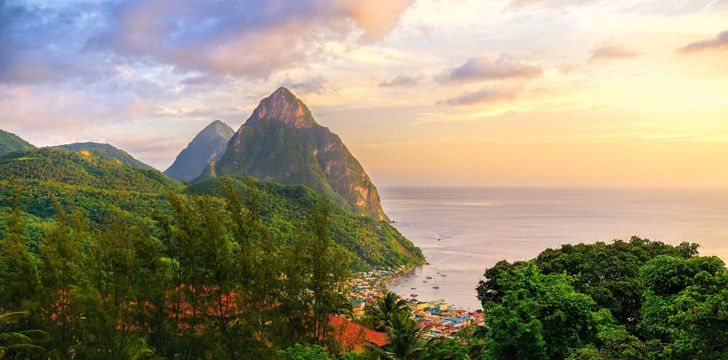 Saint Lucia is well-used for its agriculture, with sugar cane being produced for decades (although mainly a result of the slave trade). In 1964, Saint Lucia became popular for banana production, and less so for sugar cane.
English is the official language of Saint Lucia, although 95% of the population speak Saint Lucian French or Patois. Furthermore, it is thought that roughly 20% of the population doesn't speak English at all.
There is a celebration of this dialect French language every year in Saint Lucia – it is called "celebration of the language".
Mount Gimie is Saint Lucia's highest mountain, standing over 3,000 feet tall. Saint Lucia has more mountains than most other Caribbean islands, and was formed as a result of volcanic activity.
The Pitons mountain range is a Saint Lucian landmark and a UNESCO World Heritage Site.
A famous artist in Saint Lucia is Sir Dunstan St. Omer. Many people visiting Saint Lucia will have seen his visual artwork found in churches and among communities.
Saint Lucia attracts around 350,000 tourists per year, and has a booming fishing industry which benefits the locals.
The world's only "drive-in" volcano, Sulphur Springs, can be found in Saint Lucia.
The national anthem of Saint Lucia was written by Charles Jesse and is called "Sons and Daughters of Saint Lucia".
Derek Walcott, born in Castries, is a famous Saint Lucian who won the 1992 Nobel Prize for Literature.
Arthur Lewis also won a Nobel Prize, this time for Economics. He was the first black man to win a Nobel Prize not for Peace.
Aside from the Faroe Islands, Saint Lucia has the highest rate of Nobel Prize winners among its population.
Tourists often try to visit Roseau Valley, a location which boasts 21 different types of rum.
Hewanorra Airport is the only airport in Saint Lucia which accepts commercial airlines, so many tourists arrive from other destinations by cruise ship.
Many Saint Lucians do not get married until they are middle aged.