This article contains links to products we recommend. If you buy something through one of those links, we get a small commission, which helps us keep the site running.
A few years ago Facebook was a place devoid of much of the dazzle that accompanies it today.
Back then, if you wanted to portray your emotion in a status with a face you had to use actual punctuation!
So its no understatement to say a lot has changed since then – nowadays you can't go on Facebook without being bombarded by an arsenal of emoticons/emojis and stickers.
Some of them are just hundreds of different versions of the same damned smiley-face.
Some of them are T.V. characters like Shaun the Sheep, Snoopy, and some of them are just outright ridiculous characters like HamCat and Sinister Oyster.
However, what a lot of people don't know is that one of these 'outright ridiculous' characters is, in fact, a real person… well, that's if you would class him as a person.
Either way, he's alive and for him its business 24/7. That's right, I'm talking about the Business Fish.
Don't be alarmed by that fact, I couldn't believe he was real when I found out, too.
When my boss here at The Fact Site told me I was flying to Japan to meet the Business Fish and that I was going to write an article about him, I was little confused.
After a few hours of heated arguing, he managed to convince me he was real and to dig into the matter deeper… and that's exactly what I did.
The Company Behind Business Fish
I started by searching the company who 'made' the Business Fish sticker, Quan Inc.
They're a company born of the social media boom, specialising in original characters (over 500) as well as mobile gaming.
They were one of the first companies to truly explore digitised stickers as popularised in messaging apps like WeChat, Line and KakaoTalk in Asia.
I found out on such apps in Asia especially, these stickers make for a very lucrative market, yet remain free in Facebook's sticker store.
With no mention of the Business Fish here I moved on, I had 30 hours to go until I flew out to Quan Inc. HQ in Tokyo, and I still knew nothing about the Business Fish.
Sure, he was a 'sticker', but what about the Business Fish himself, what about his personality?
For this I went to the only place you can read the thoughts of anyone in the world in 140 characters or less. Twitter. And yes, the Business Fish has his own Twitter.
Every-thing's in CAPS as well, I might add. I decided I'd bring this up in our interview.
So here's a few facts about the Business Fish I learnt from his Twitter.
He is a close personal friend of tennis player Andy Murray, and loves his 'MAGIC SPRING HAIR' although thinks Andy's face can be 'CHALLENGING'.
Doritos once bought out a limited edition Business Fish-Flavored Dorito, which the Business Fish himself helped fund and design.
His business ethic extends into other areas of his life and he is 'VERY PROFFESIONAL' in both 'BUSSINESS OR PASSIONATE PLEASURES' always giving 110%.
The Business Fish is a massive Zelda fan and loves to cosplay as Link.
He is one of the world's most accomplished skateboarders, even teaching Tony Hawk how to skateboard when he was young. He's also a fantastic roller-skater, and was the first ever fish to be a winner in the National Roller-Derby Championships.
That's not the only record he holds, the Business Fish holds the record for the most energy-drinks consumed by a fish without dying at 23 cans of Monster!
His ideal weekend after a hard week of business is to chillax on his sofa with some pizza watching Netflix.
His favorite film is Despicable Me! as he loves the Minions and one day hopes to have his own army of minions dressed in suits to help him conduct his business.
He can expertly play the drums and the guitar at the same time.
Sometimes when planning hostile take-overs of other companies, the Business Fish will play Dungeons & Dragons to get himself in the mindset of a conqueror.
What I Learned
Amongst these facts there were other interesting things I found out about the Business Fish.
The first thing I noticed was the amount of Tweets ending with the term 'PLS SEND CHOCCY', so I figured I'd best bring him a few bars Cadbury's Dairy Milk.
I then found out he's also a big fan of Game of Thrones, although he views it more as a 'THRONES SPORT GAME'.
As I'm a Game of Thrones fan as well I decided to ask him who his favorite House was when I met him.
It also was on the Business Fish's Twitter that I found out he used to be a farmer, this I was definitely going to ask about.
After an excessive evening, night and morning of stalking the Business Fish online, I decided to pack my bags for Tokyo and turn in.
The Next Day…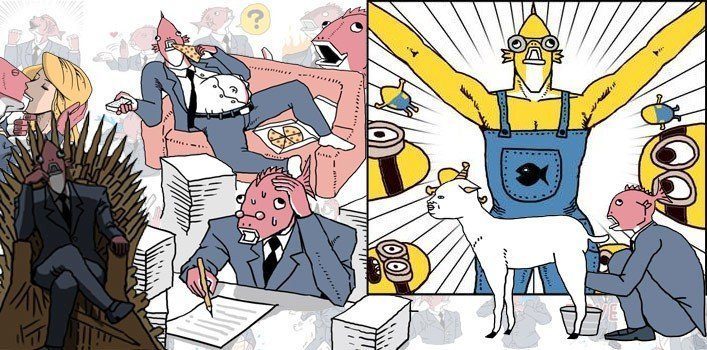 My alarm screeching at me told me it was time to wake the hell up.
I sleepily opened my eyes and hit snooze.
That's when I noticed the piece of paper on my bedside cabinet, folded perfectly into an origami fish… I picked it up, looked it over, and unfolded it.
There was a message written in capital letters on the inside 'PLS BRING CHOCCY'. Weird. The door was locked, all the windows were locked… how could anyone get in here? Or out??
I checked my suitcase to make sure the chocolate I'd bought was in there. It was. Onwards to Tokyo.
Some hours later I'd checked out of Narita International Airport and was on my way to the hotel booked for me by the Business Fish himself.
Five minutes after checking in I got a knock at my door. A car was waiting for me downstairs.
This was sooner than scheduled. I grabbed a few things – the chocolate included – from my suitcase, and stuffed them into my backpack.
The car was a modest, blacked out Nissan Skyline.
I got in and without a word between myself and the driver I was taken to Quan Inc. HQ in central Tokyo.
I was lead, wordlessly, to a ladder that lead up to what looked like a giant fish bowl.
The ladder itself had capital letters on the end of each rung that spelled out 'BUSINESS FISH', this was the Business Fish ladder to success from his Twitter page.
I took a breath, set my phone to voice record and climbed up the ladder into the giant goldfish bowl.
I emerged in a large stone caste, much like a bigger version of the ones you see in goldfish bowls, to see the Business Fish seated on a replica of the Iron Throne, resplendent in his fine tailored-suit.
The Interview With Business Fish
The following is a transcript of my (TFS) conversation with the Business Fish (BF)
BF: WELCOME JACK DO U LIKE MY METAL CHAIR?

TFS: Wow… that's so cool. I saw you're a fan of Game of Thrones. So am I, who's –

BF: WHAT TEAM IS UR FAVORITE?

TFS: Team?

BF: MY FAVORITE THRONE TEAM IS TEAM STARK 'COS THEY ALWAYS PLAY FAIR AND I LIKE A GOOD CLEAN GAME.

TFS: I see. It's the Greyjoys for me.

BF: JACK I AM DISAPPOINT. SORRY BUT WE MUST MAKE THIS MEETING SHORT I HAVE BUSINESS TO ATTEND 2.

TFS: Of course you do… so tell me why you left your farming roots to pursue a life of corporatism?

BF: FARMING IS FUN I LIKE MILKING THE GOATS. BUT FARMING IS NOT FULL OF BUSINESS. U CANNOT MILK A GOAT IN A SUIT AS FINE AS THIS AND THERE IS NO 3G ON FARMS WORLDWIDE.

TFS: I see. So what is your favorite thing about being in a corporate business?

BF: I LIKE THE SUITS. AND THE MONEY. THE MONEY MEANS U CAN BUY LOTS OF CHOCCY. DID U BRING CHOCCY???

TFS: I did. [I handed him the chocolate]. Is that okay?

BF: OH MY GISH THIS IS A GREAT SELECTION JACK U HAVE PLS THE BUSINESS FISH. 'COS OF THIS CHOCCY SELECTION U MAY ASK 2 MORE QUESTIONS!

TFS: Alright, thank you. What is your least favorite thing about being in business?

BF: BUSINESS CAN BE TOUGH. PEOPLE GET LEFT BEHIND. LIKE TOM FROM MYSPACE – HE WANTED TO BE EVERY1'S FRIEND BUT THEY ALL LEFT HIM 2 BE FRIENDS WITH MARK FROM FACEBOOK. NOW ASK THE BUSINESS FISH UR FINAL QUESTION.

TFS: Interesting. Okay, and thanks for this opportunity Business Fish, but I have to know: Why all the capital letters in your social media posts?

BF: BUSINESS FISH DOES NOT DEAL IN HALF MEASURES – NOT IN LIFE, NOT IN BUSINESS AND NEVER IN GRAMMER – AND PUNY LITTLE LETTERS ARE THE HALF MEASURES OF WORDS. IF U WISH TO PUBLISH THIS INTERVIEW U MUST PUT ALL MY LETTERS BIG PLS!

TFS: Okay Business Fish, thank you so much for your time.

BF: U ARE WELCOME JACK NOW I MUST ATTEND BUSINESS MEETING.
With this he rose from his 'metal chair' and we both climbed down the ladder before he disappeared to his business meeting without a goodbye and I was ushered – wordlessly – out of the building and back into the blacked-out Nissan Skyline.
It wasn't until I was on the plane back to England that I remembered something I wanted to ask the Business Fish:
How the hell did he get that note into my room while I was sleeping??